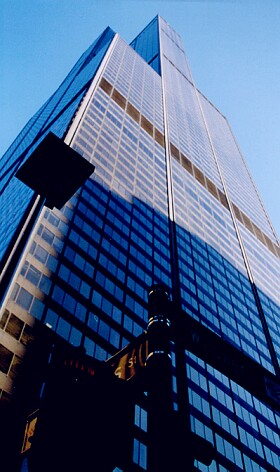 Looking skywards on South Wacker Drive (© Randall Krause)
Sears eventually chose to move its headquarters to a more human-scale suburban setting in Hoffman Estates leaving the tower nearly half vacant. Management and leasing of the property was initially given to Chicago developer John Buck Co. — who established the iconic building as a destination for many new tenants over the course of almost five years.
The building was first acquired in 1989 by Boston's AEW Capital Management for the sum of $800 million. However, despite successfully bringing occupancy up by 40 percent during its term of ownership, AEW could not profit leasing space to its roster of tenants due to a continued downtown real estate depression and lower than average rental rates within the Tower.
In late 1997, the landmark tower was sold for $804 million to Toronto-based TrizecHahn, a REIT (real estate investment trust) firm. Downtown property markets subsequently began to show signs of recovery, and Sears Tower was again becoming one of Chicago's most prestigious high-rise properties. In fact, to honor Sears Tower's principal structural engineer, an adjacent street was, following a ceremony in the building, dedicated "Fazlur R. Khan Way" on July 7, 1998 by the City of Chicago.
---

Sears Tower, alongside John Hancock Center and Amoco Building, was the epitome of the Chicago skyscraper craze during the latter half of the 20th century — a time when the American economy was booming and tall buildings were a sign of commercial strength and success.

---
To meet the growing demands of the digital age, Sears Tower was upgraded March 8 of 2000 with four combination antennas, each 29.4-feet, 2890-lbs mounted on 80-foot towers at the four corners of the roof. An Erickson S-64F Aircrane was used to lift the load from the top of the parking garage skyward about one quarter mile. Four city blocks were closed off during the massive operation. However, the addition would ensure that the Chicago area was capable of receiving HDTV.
On June 4, 2000, the 220-foot western communications tower had to undergo modifications to increase the signal quality of Chicago's local NBC television station. This necessitated disassembling the existing framework via hellicopter and installing a new 75-foot, 19250-lb stack of self-supporting antenna pylons for WMAQ-29, WLS-52, and WPWR-52/22 on top of the existing support tower, thus raising the height of the building to 1729 feet.
Following the attacks of September 11, 2001, however, the status of Sears Tower as a viable investment opportunity proved questionable. Trizec Properties Inc. finally transfered ownership to its lender, MetLife Inc., in August of 2003 after facing the growing possibility of defaulting on its mortgage. Less than one year later, however, MetLife sold its stake in the building outright to a group of three investors (including two of Larry Silverstein's group), thereby forming 233 South Wacker LLC.
The building was leased and managed by real estate firm CB Richard Ellis Inc. until 2007 when responsibilities were assigned to Chicago-based U.S. Equities Realty LLC. Seeking to revitalize and redevelop Sears Tower, owners have announced numerous "green initiatives", including possible LEED certification, aimed at reducing energy costs and positioning the Tower as a more attractive and eco-friendly destination for new tenants. Visionary plans to "paint" the building silver were also briefly considered, but never left the drawing room table.
---

Engineers sought different ways of emphasizing the city of 'broad shoulders', and the desire for Chicagoans (including their businesses) to always be bigger, bolder, and better. Sears Tower is perfectly reminiscient of a thriving, innovative period in Chicago architectural history.

---
The entire building has also undergone significant security improvements since 2001. Johnson Controls' Hillside office was awarded the contract to install various barricades along all street-level entrances, X-ray metal detectors in the main concourse, and electronic turnstile portals around the elevator lobby. Additionally, visitors now wishing to do business in the tower must sign-in at a security checkpoint. Any unidentified person will be immediately escorted out of the building by armed security officers.
In 2015, private equity giant Blackstone Inc. purchased the Willis (née Sears) Tower and began a half-billion-dollar renovation that would radically change the role the former tallest building in the world would play in downtown Chicago.
Today, anyone — not just workers in the 108-story office tower — can sample from a wide range of new public amenities inside the building. At a new multi-level food hall, you can grab breakfast at Do-Rite Donuts and Chicken or spend $19 on a bluefin tuna roll at Sushi San. The Color Factory, an interactive (as in: Instragrammable) art museum, opened up in June, beckoning tourists and locals with chromatic thirst traps. A 75,000-squre-foot conference center hosts group meetings, and weddings are in the works. On the tower's podium, yoga classes and concerts can be held on a new 30,000-square-foot landscaped roof garden. Office workers in need of an early happy hour can find one in a new bar on the 33rd floor that opens at 3 pm.


Sears Tower's continued status as the tallest building in the western hemisphere was first published by SearsTower.org. Since that time, countless newspapers and books -- even the official Website -- have increasingly cited this fact as a popular alternative to the "tallest building in North America."